THEC64 Mini. A Small Yet Mighty Slice Of Retro
Remember the Commodore 64? If you do chances are you're over 40. I remember it, jostling around the TV screen for just one more go. Oh the glory days, how I miss them.
Playing classics like Boulder Dash and Impossible Mission (incidentally games that are pre-loaded on THEC64 Mini), and marvelling at the cutting edge graphics and wiping sweat from a fevered brow.
Opening the door to the real world and squinting as your eyes adjust from your best mates darkened room, once switched off. Then down the local shop for some Tizer and a packet of Space Raiders. I digress.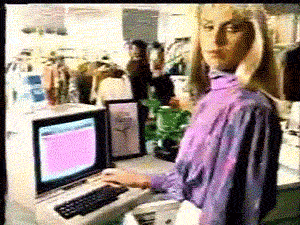 The Commodore C64 was it really that long ago? I want one, I want one.
It was an absolute age since this bad boy was out. Now it's your turn to buy a slice of computer history, albeit in a 50% reduced form.
Anyway, if you do remember the Commodore 64, then you're going to love this little Beast. Complete with 64 installed games (full list of THEC64 Mini games below) and a classic joystick this is the perfect gift for the older gamer.
Your mum/dad will more than likely love this, and it will make an excellent birthday present for them, the only drawback is it will make them feel old. The original C64 was released back in 82 and paved the way for some awesome games, as well as some pretty sweet synth music in the games themselves.
THEC64 Mini Commodore Features:
USB ports, you can plugin in another keyboard and use it as an actual Commodore 64
There are 2 USB ports so you can plug in on a second controller for two player fun
No more loading games by tape
No more writing the code down for games to save your level, THEC64 Mini has a save/resume function
Outputs at 720p display via HDMI
Simple plug and play
Full List Of THEC64 Mini Games:
Alleykat
Anarchy
The Arc of Yesod
Armalyte
Avenger
Battle Valley
Boulder Dash
Bounder
California Games
Chip's Challenge
Confusion
Cosmic Causeway
Creatures
Cyberdyne Warrior
Cybernoid
Cybernoid II
Deflektor
Everyone's a Wally
Firelord
Gribbly's Day Out
Hawkeye
Heartland
Herobotix
Highway Encounter
Hunter's Moon
Hysteria
Impossible Mission
Impossible Mission II
IO
Jumpman
Mega-Apocalypse
Mission A.D.
Monty Mole
Monty on the Run
Nebulous
Netherworld
Nobby the Aardvark
Nodes of Yesod
Paradroid
Pitstop II
Ranarama
Robin of the Wood
Rubicon
Skate Crazy
Skool Daze
Snare
Speedball
Speedball 2
Spin Dizzy
Star Paws
Steel
Street Sports Baseball
Summer Games II
Super Cycle
Temple of Apshai Trilogy
Thing on a Spring
Thing Bounces Back
Trailblazer
Uchi Mata
Uridium
Who Dares Wins II
Winter Games
World Games
Zynaps
Available to buy from: